GILOY
Botanical name – Tinospora cordifolia
Family – Menispermaceae
Common names –
English – Heart-leaved moonseed
Hindi – Giloy
Sanskrit – Guduchi
Parts used – Stems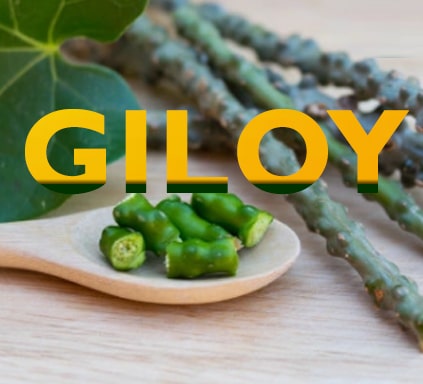 Distribution
It is distributed throughout the tropical region of  India up to 1,200m above sea level from Kumaon to Assam, in the north extending through  West Bengal,  Bihar, Deccan,  Kankan, Karnataka and  Kerala.
It is  indigenous to areas of  India,  Myanmar, Sri  Lanka, China, Thailand, Philippines, Indonesia, Malaysia, Borneo, Vietnam, Bangladesh, North Africa, and South Africa. It prefers a wide range of soil, acid to alkaline and it needs a moderate level of soil moisture.
Active Components
It contains diverse phytochemicals including Alkaloids, Phytosterols, Glycosides, Columbine, Tinosporaside, Jatrorrhizine, Palmatine, Berberine, Tembeterine, Tinocordifolioside, Phenylpropene, Disaccharides, Choline, Tinospora acid, Tinosporin, and Tinosporide
Uses
Respiratory System –
Giloy reduces several respiratory problems such as chest tightness, shortness of breath, coughing, wheezing etc. T. cordifolia is used for the treatment of Kasa (Cough) and Swasa (Asthma), which is described in various texts of Ayurveda. T. cordifolia is traditionally used for the treatment of asthma, and the juice is also employed for the treatment of chronic coughs. T. cordifolia significantly decreased all symptoms of Allergic Rhinitis and was well tolerated. The Anti-Allergic and Bronchodilator properties of an aqueous extract of the stem evaluated on histamine-induced bronchospasm in guinea pigs, capillary permeability in mice and mast cell disruption in rats showed that it significantly decreased bronchospasm induced by 5% histamine aerosol, decreased capillary permeability and reduced the number of disrupted mast cells.
Hypoglycemic Effects of Giloy
Currently available oral Anti- diabetic synthetic drugs in the management of diabetes partially can compensate metabolic derangements, but do not necessarily improve the elementary biochemical lesions, morover they have accompanied side effects.
It has been reported that, 1-2 substituted pyrolidines isolated from the stem of Guduchi is responsible for anti- diabetic activity. It helps to enhance the production of insulin which ultimately controls the blood sugar levels.
Various studies demonstrate amelioration of experimental diabetic neuropathy and gastropathy, reduction of blood sugar in Alloxan-induced hyperglycemic condition, significant reduction in blood glucose and brain lipids, increase in glucose tolerance, increase in glucose metabolism, inhibitory effect on Adrenaline-induced hyperglycemia by pyrrolidine derivative, and significant hypoglycemic effect in normal and alloxan diabetics following administration of T. cordifolia.
Digestive System
Giloy improves digestion and reduces digestion-related problems like diarrhea, colitis, vomiting, hyperacidity etc.
Giloy As An Immunity Booster
This herb activates the immune system of the body and increases the vitality in a person.
The water & Ethanol extract of stems inhibit Immunosuppression activity produced by Cyclophosphamide. Giloy improves the phagocytic function without effecting the Humoral or Cell-mediated immune system.
The alcoholic and aqueous extracts of T. cordifolia are reported to have beneficial effects on the immune system and have been tested successfully for their Immunomodulatory activity. The degradation of proteins due to photosensitization as assessed by Sodium dodecyl sulfate-polyacrylamide gel electrophoresis (SDS-PAGE) was effectively reduced by simultaneous treatment with G1-4A/PPI (partially purified immunomodulator) from T. cordifolia during photosensitization. The novel (1,4)-alpha-D-glucan derived from the plant activates the immune system through the activation of macrophages via TLR6 signaling, NFkappaB translocation and cytokine production. The Antiangiogenic activity of the plant T. cordifolia is related to the regulation of the levels of cytokines and growth factors in the blood. The aqueous extract of T. cordifolia was found to enhance phagocytosis in vitro. The aqueous and ethanolic extracts also induced an increase in antibody production in vivo. T. cordifolia extract treatment caused a significant reduction in eosinophil count and improved hemoglobin. Diabetic patients with foot ulcers on T. cordifolia as an adjuvant therapy showed significantly better final outcome with improvement in wound healing.
Giloy For Chronic Fever
In Ayurveda, two factors cause fever- Ama (toxic remains in the body due to improper digestion) and the second one is due to some foreign particles. Giloy acts in chronic, recurrent fever, it is an anti- inflammatory, antipyretic herb which helps to boosts immunity to fight against the infections and also helps in early recovery.
The water-soluble fraction of 95% Ethanolic extract of T. cordifolia plant has shown significant antipyretic activity. Antipyretic effects have been reported in the Hexane- & Chloroform-soluble portions of T. cordifolia stems. Various studies show remarkable anti-infective and antipyretic properties of T. cordifolia.
Anti-inflammatory property
T. cordifoliais mentioned to treat Vatarakta(Gouty Arthritis) and Daha (Burning Sensation) in various Ayurvedic texts. It is traditionally used in compound formulations for the treatment of Rheumatoid Arthritis. The alcoholic extract of T. cordifolia has been found to exert anti-inflammatory actions in models of acute and subacute inflammation. A significant inhibition of primary and secondary phases of inflammation was observed in a model of adjuvant-induced arthritis. It also significantly inhibited antibody formation by typhoid "H" antigen. T. cordifolia was found to be more effective than Acetylsalicylic acid in acute inflammation, although in subacute inflammation, the drug was inferior to Phenylbutazone. The aqueous extract of the stem was reported to exert a significant anti-inflammatory effect in both cotton Pellet–Induced Granuloma and Formalin-Induced Arthritis.