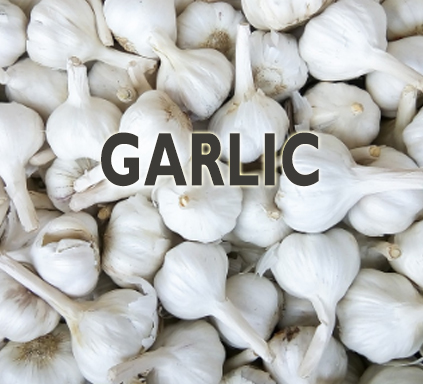 GARLIC
Botanical name-  Allium sativum Linn.
Family – Liliaceae
Common names-
English-  Garlic
Hindi-Lehsun
Sanskrit- Rasone
Parts uses- Bulb
Distribution-
Garlic is believed to originate from Central Asia (Kazakhstan, Uzbekistan and Western China).
At present garlic is grown all over the world from the equator to latitudes of 50° in both hemispheres, but is most popular in China, the Mediterranean and Latin America.
It is rarely found in hot and humid lowlands
Nutritional value-
A 100g serving of garlic provides:
98 calories
7.9g protein
0.6g fat
16.3g carbohydrates
5.5g fibre
Active components-
The major active components of garlic are its Organosulphur compounds, such as Diallyl Thiosulfonate (Allicin), Diallyl Sulfide (DAS), Diallyl Disulfide (DADS), Diallyl Trisulfide (DATS), Ajoene, S-allyl-cysteine (SAC), and S-allyl-cysteine sulfoxide (Alliin)
Uses-
Anti-Oxidant activity:
Garlic and its active ingredients (such as Phenols & Saponins) have certain antioxidant properties
Usually, raw garlic had a stronger antioxidant activity than cooked garlic, and the antioxidant activity of fermented garlic is stronger than that of crude garlic
The antioxidant properties of garlic are due to the four main chemical compounds- Alliin, Allyl Cysteine, Allyl Disulfide & Allicin which neutralizes the free radicals in the body
Reduces Cholesterol levels-
High levels of bad Cholesterol can have a negative effects on various organs of the body. Garlic helps to reduce the Total Cholesterol & Low-Density Lipoprotein
Intake of garlic doesn't help increase high-density lipoprotein (HDL, "Good" cholesterol) or lower levels of other blood fats called Triglycerides
Prevents Cardiovascular Disorders-
Garlic has been shown to increase Na+/K+-ATPase protein levels and reduce Cardiac Hypertrophy
Garlic extract had protective effects on heart rate variability, improved cardiac functions & inhibit platelet aggregation
Kyolic aged garlic extract has demonstrated to be able to normalise blood thickness. The blood-thinning effect of garlic is well known, decreasing the risk of blood clotting and thrombosis
Ajoene, a constituent of essential oil of garlic, has been shown to inhibit in vitro platelet aggregation in different species of animals i.e., cow, dog, guinea-pig, horse, monkey, pig, rabbit and rats
Reduces High Blood Pressure-
Mediation of intracellular Nitric Oxide (NO) and Hydrogen Sulfide (H2S) production as well as blockage of Angiotensin-II production, promotes vasodilation and thus reduces the BP
Kyolic aged garlic extract has the potential to reverse the ageing of the arteries and therefore, arterial stiffness
Improves Immunity-
Eating garlic boost the number of virus-fighting T-cells in bloodstream effective against viruses
Garlic contains compounds that help the immune system fight germs
Whole garlic contains a compound called Alliin, this compound have been shown to boost the disease-fighting response of some types of white blood cells in the body when they encounter viruses, such as the viruses that cause the common cold or flu
Respiratory System-
Garlic is claimed to have numerous beneficial properties to the health of humans and animals. It is commonly used to treat respiratory diseases and infections
The active ingredients present in this herb not only act against bacteria and fungi but also protects against various parasites, yeast and viral infections
Allicin present in garlic possesses antioxidant properties that help in treating throat infections and reducing the severity of upper respiratory tract infections
This medicinal herb also aids in decreasing tissue inflammation caused due to respiratory congestion it is one of the best natural expectorants.